I have had a lot of Vinnie flying through my hands lately with the solos compilation and trades etc. This is a new one for me that I picked up from a trade with a great HOD member, Efthimios (thanks again dude!). This is a pretty cool DVD in that it kind of reminds me of the Baked Potato stuff because it seems to be filmed by a 'hidden' camera. These kinds of recordings are so rare - I love this shit!
http://www.dimeadozen.org/torrents-deta ... ?id=414338
Vinnie lights it up. I especially love 12:35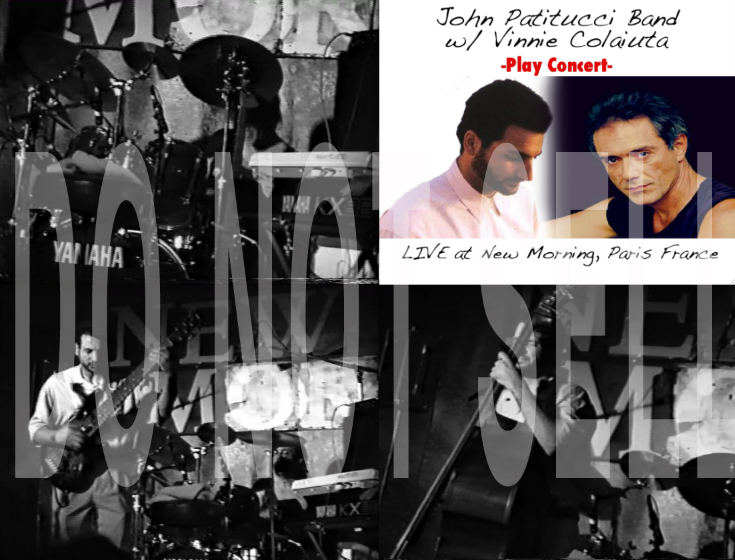 Duration: 1:06:13
Data Size: 2.63 GB
Bit Rate: 5.69 Mbps
Video Tracks:
224 MPEG-2, 720 × 576, 4:3, 25 fps, 7.00 Mbps, lower field first
Audio Tracks:
160 PCM stereo, 48 kHz, 1.54 MbpsThe Band:
Black and White audience shot.
Here is a performance of the John Patitucci band from Paris France's jazz club, New Morning. Unknown date but would be 1990-1992. Filmed with a handheld camera on a tripod or some kind of mount. There is some shifting and adjusting. The camera is cut off a few times (probably to conserve battery life) and the sound is a little boxy but acceptable. For the most part the cameras stays on Vinnie and Patitucci.
Each song is chaptered as are Vinnie's solos.
I am not familiar enough with Patitucci's songs to make a set list. If anyone would like to make it known, that would be great. This show is not on Etree.
John Patitucci - Electric & Acoustic Bass
Vinnie Coliauta - Drums
Steve Tavaglione - Sax & EWI
John Beasley - Keyboards